Play Mobile
Edit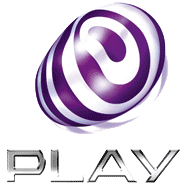 This pack is normally used for USB modems, and although it contains very cheap data, there is no cellular phone service with the SIM. So, if you're using this in a phone, you'll get great / cheap data access, but you won't be able to make calls, and you won't have a local phone number.
You will also need to set up the APN in your mobile - the details are listed on the pack.
Data rates:Edit
Up to 1 Mbit/s by default
Up to 4 Mbit/s - 10 PLN (about 2€/3$) for 30 days.
Data rate can be upgrade in online panel 24.play.pl
There is also additional service "night transfer" which removes transfer cap between 12 a.m. - 9 a.m. for 10 PLN (about 2€/3$) for 30 days and can be bought also in online panel 24.play.pl
GSM frequency bandsEdit
Data feature packsEdit
Available starter packs:
9PLN (about 2€/3$) - 300 MB with starter
19 PLN (about 2€/3$) - 1 GB with starter
recharge for:
bonus transfer:
whole transfer:
valid for:
5 PLN 

(about 1€/1.5$)

10 MB
150 MB
3 days
10 PLN 

(about 2€/3$)

15 MB
300 MB
7 days
20 PLN 

(about 5€/6$)

0.45 GB
1 GB
14 days
30 PLN (about 7

€/9.5$)

1.17 GB
2 GB
30 days
50 PLN (about 12

€

/16$)
3.61 GB
5 GB
60 days
75 PLN (about 18

€

/24$)
5.91 GB
8 GB
90 days
125 PLN (about 30

€

/40$)
11.52 GB
15 GB
120 days
AvailabilityEdit
Play SIMs can be purchased in Play shops or from most other mobile vendors / kiosks.
SIM sizesEdit
Nrmal SIM + Mini SIM.
TetheringEdit
Yes. No additional payments required.
Please note that PLAY internet coverage is low (only cities). Also it offer only 3G. No GPRS/EDGE available. Coverage map (for internet coverage tick the third option: "Play Online - internet mobilny"):http://internet.play.pl/maps/map
Data SIM pack are easily available: Newsagents / tobacconists sell starter packs, the prices are even cheaper than Play.
Available starter packs (as of september 2013):
9PLN (about 2€) - 300 MB / 7 days
15 PLN (about 3,50 €) - 1 GB / 14 days 
See http://internet.plus.pl/indywidualni/promocje/plus-internet-na-karte/startery
No registration of any kind required. Just pop in the SIM and start surfing, even LTE speed should be available. The SIM card comes with a bilingual Polish/English leaflet. Managing your account online would require Polish language skills, no English homepage is available. But since registration is not necessary, you can cope without. Satisfyingcoverage in the cities all the way to the German border, weak coverage out in the county.
Settings: APN: internet
Data SIM lets you send / receive SMS, but no calls are possible.
Top-ups (as of september 2013)
| | | |
| --- | --- | --- |
| 10 PLN | 300 MB | 7 days |
| 20 PLN | 1,3 GB | 14 days |
| 30 PLN | 2 GB | 30 days |
| 50 PLN | 5,5 GB | 90 days |
| 100 PLN | 15 GB | 120 days |
To top up your balance, log on at www.online.plus.pl with you 9-digit phone number and the last (!) four digits of your PUK.
I wanted to have one with telephone number and Orange seems to have a reasonable rate.
Default data rateEdit
I bought a Starter package for 20 Zloty. You have 1GB for free within 30 days. One minute phoning is 29 gr. You have to use the 20 zloty within 30 days. After the balance is empty and you don't recharge, the number will still be callable for 370 days.
usage hintsEdit
No PIN is needed
The card worked out of the box after switching to Orange in my HTC-Desire
Doing your first call, you can switch to english, after that, the returning of balance etc. is in english language
There is a computer system at *500 which lets you recharge the card or check the balance
more easily, you can check your balance with *124*#
by sending "START" to free number 8002, package validity will expand to 1 year.
you can buy extra packages which give you additional bonus in MBytes - example: 25 Zloty gives 1GB extra transfer (1,25GB including those 25 zlotys), 100 zloty gives 7GB (1GB for 100 zloty + 6GB bonus)
More information (in polish only) : http://www.orange.pl
Link in English: Orange for Visitors
The link might change, but you can always write "orange free na karte" in search box and it will appear as first link.
Maybe someone who is able to speak polish can review this? [ yes, all correct, and I have set the actual link to prepaid data plan :) ]
Important info: the best way is to buy "Orange Free na karte" starter, but it it is not available you can buy any Orange prepaid starter and change the plan to "Orange Free na Karte" by sending SMS "FREE" to 3033 (costs 0,29 zloty) or by sending code
101*40# (no costs). Note, that you won't have the 1GB free internet, just the about 50MB per each 5 zlotys on the card. However, still you can buy extra packages and get the bonus - optimal is 25 zlotys which includes 1GB bonus, lower boosters give much smaller bonus.
AvailabilityEdit
This SIM pack is available at any Orange shop and many news stands across Poland.