Chinese Mobile Phone Operators
Edit
There are three major mobile phone operators in China- China Unicom, China Mobile and China Telecom. They use different radio frequencies that require different types of mobile phones. China Unicom is the one operator using the same 3G system that is common in Europe and most of the world while China Mobile uses a home-grown 3G technology that is not used outside China. China Telecom uses CDMA (and thus EVDO for 3G) North America, India, Japan, Thailand, and a few other Asian countries; however, their reliance on R-UIMs instead of the traditional North American method of storing programming data in the phone means that from overseas, only a select few unlockable au (Japanese CDMA provider) phones and most Verizon (American CDMA provider) phones (and the latest generation of Verizon/Sprint-model iPads and iPad minis) with LTE (and thus SIM/R-UIM slots) are capable of using their network. Older Verizon and most Sprint phones without card slots can be made to function on the network, however this usually requires the buyer to purchase their prepaid starter pack online and also requires some to a lot of technical knowledge depending on the phone in question.
China Unicom
Edit
China Unicom is officially the worlds third largest mobile phone operator (current info?). China Unicom is also the official iPhone retailer in China. The company operates a GSM and 3G based network covering most of China. The 3G network using WCDMA technology was launched in october 2009.
Subscription startup costEdit
Deposit of RMB200 required (150 in Shanghai) - but monthly charges can be taken from this.
All foreign visitors purchasing a SIM will require a passport sooner or later- if not at time of purchase (if purchasing from a street stand) then at time of activation at a carrier service center. Note that the deposit is now non-refundable.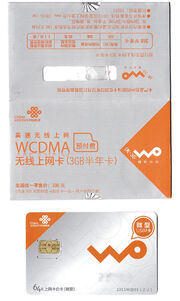 Data feature packsEdit
For a China trip in November 2013 I bought a China Unicom prepaid data SIM card through ebay from a dealer in Taiwan. 1 GB of data for $19,99, valid one month (that is: one calendar month, not 30 days from the first day of use).
Worked perfectly in Beijing and Shanghai, no further registration needed, no need to look for a shop with English-speaking vendors, made travelling much easier.
****

on Sunday  9.9.2013,  I bought a Unicom Sim Card in Shanghai for data and calling.
It cost all together 96 RMB about 15USD,  and had 300MB (66 RMB) plus 500MB (30RMB), together 800 MB.
There is 100MB  for 10RMB, 300MB for 20RMB, 500MB for 30RMB.
Further additional 1MB cost 0,3 RMB, so 100MB 30RMB.
They said it should be valid for 1 month, but starting at the 1st. so it is valid till 30.9.2013.
This was a prepaid card.
It took me 25 minutes in the shop, till he had done all the paperwork stuff.
I brought  my German passport with and left them a copy of it.
The card worked 5 minutes after putting into my Samsung S3.
It worked for the 8 days i was in China perfect. I was in Shanghai  Xi-amen, and Beijing and outside these cities, so it works good everywhere.
Receiving calls was good. To phone out i always used MobileVOIP for saving credit. I did not know how much i had.
Whatsapp and Foxer worked perfect.
Also MobileVOIP (similar to Skype)  was good to use.
The internet is a bit restricted, so you can not go to all sites.
++++++
There is also a card available from China Mobile, i will write more later about it. Greetings CR Germany    ++++++++++++++++++++

A range of rates from RMB96 per month including 300MB to RMB886 for 3GB. These require subscriptions. [1]
However, a separate payment structure exists for data-only devices (like the iPad). 500MB nationwide for 50RMB, 1GB for 80RMB, 3GB for 150, 5GB for 200, and 10GB for 300.
In addition, there are one-time prepaid data cards available - 3GB for 300RMB and 6GB for 600RMB. These are good for half a year and one year from date of first use respectively. Shanghai offers a separate fee structure for those who plan on spending most of their time (or data usage) within city limits; 9GB local+1.5GB out-of-town good for three months will only cost 300RMB, but issuance is limited to their main offices. These are probably your best choice as a tourist or business visitor.
Asking for 'data only sim-cards' may confuse the Unicom sales people. Instead ask for 'for iPad' or 'for internet'. You need to provide your passport and a phone number (ideally for your hotel) and the process is more time consuming than expected. The clerk that does the actual data input speaks no english what so ever and is tucked away in a side room. 
It may be faster to purchase the "China Unicom Ipad Sim" from a generic mobile shop. They did not require a passport - the whole process took about 1 minute. 
Is it working?Edit
As soon as you put in the SIM card and restarts the phone you should recieve two text messages from number 10010. The first one is a greeter and the other one tells you how much data you have left to use. Everytime you loose connection with the network (quite often unfortunately) or turn your phone back on you will get these two text messages. They pile up.
AvailabilityEdit
Regular size pre-paid SIM cards should be available from actual Unicom offices - high streets in China will have tens of outlets, look for the big one.
Sign up as per PDF from this site [2]
The form provided at the above web site does not mention this, but when I went to buy my SIM card, they wanted the address where I was staying. Best thing to do if you are in a hotel is bring one of the address cards that they give you in the hotel, and give it to the person who is entering your information.
Very few employees at a typical China Unicom office will speak English. They are expecting to serve Chinese-speaking customers, and if you don't have any Chinese you will need special help. When I was there they bent over backwards to help me, but I realized afterwards that it was a major imposition. So the more prep work you can do up front, the better—don't walk in blind and assume it'll be okay. The english-speaking person who helped me at the office did not do the data entry, and did not know what information would be required; the data entry person didn't speak english.
Alternatively, one can avoid this hassle by finding the nearest computer parts or cellphone market and buying a card there. No registration required- cash paid and that's it. But you may need to haggle the price down to reasonable levels.
SIM sizesEdit
Both regular sized and microSIM cards very readily available at the major Unicom outlets in Beijing.
TetheringEdit
Sure Included
International CallingEdit
Requires further deposit - this varies from conversation to conversation but RMB300 seems common. Use a callback service on iPhone.-I donnot think so, most of China Unicom's 3G prepaid SIM card are IDD ready for making int'l calls.
Where To Buy?
Order online is an option if you MUST know your number in advance, but otherwise purchasing on arrival is going to be MUCH cheaper.
China Unicom (Hong Kong)
Edit
China Unicom also operates in Hong Kong, selling dual-number SIMs that work in both Hong Kong and the mainland. One reason to get a SIM in Hong Kong instead of mainland China is because a China Unicom HK SIM will pass all data through Hong Kong, allowing through websites a mainland-based SIM will not. Another reason is to be able to add money using a foreign Visa/MasterCard or PayPal, which you can't do with a mainland SIM.
Intial Cost/Availability
Edit
The Hong Kong dual-number SIM package has a list price of HK$120. Buy from a street stall in Hong Kong or from one of the many online sellers on Taobao selling these SIMs and you will pay a little more than half of that (average price 70RMB from mainland China or HK$66 from Hong Kong). The SIM includes HK$60 of credit.
Data packs
Edit
If you do not purchase a feature pack, data is HK$2/MB. Not a good deal. There are two options for the average data user- HK$38/day for 300MB or HK$78/week for 500MB. Both must be activated from the phone by dialing a short code- dial *118*441# to activate the daily plan, dial *118*500# to activate the weekly plan. The plus side is, unlike a mainland SIM there is no obligation to register your name to it; just pop it in and you should get a greeter text telling you your number and how much money you have. Send the data package activation code and you will receive a text telling you that you've successfully activated it.
Tethering is included with both the daily and the weekly packages.
SIM sizes
Edit
It comes as a convertible SIM/microSIM two-in-one package; for those needing nanoSIMs it can be taken to any China Unicom shop in HK or on the mainland to be cut down to nano size for free.
China Telecom
Edit
China Telecom is much smaller than either Unicom or Mobile with only a few million users. As a consequence, it has much lower-priced plans and has a long-standing practice of offering significant amounts of bonus credit with new subscriptions to attract more customers. For customers with compatible phones or tablets, China Telecom will most likely be a better deal. Do note, however, that only Verizon LTE-capable CDMA iPhones and iPads will completely function upon insertion of a China Telecom R-UIM; while older Android handsets will only function with voice and text without additional software modification, newer handsets will only need to be modified if your local area has been upgraded to eHRPD data (an enhancement to existing 3G to allow easier hand-offs to LTE in the future).
Subscription startup costEdit
Deposit required varies from 50 to 900 depending on desired plan but monthly charges can be taken from this.
Be careful; the deposit with China Telecom is not refundable. However, the plan will typically leave little more than US$0.15-4 equivalent of credit after the monthly plan charge is deducted. The only exceptions are the "cloud" plans.
Cloud plans are a set of lower-cost plans aimed at people who use data/voice/text equally. The 19RMB plan (which only includes 20MB) requires a 50RMB deposit, as does the 49RMB plan (which includes a heftier 200MB); thus, for a visitor staying less than a month, there is no difference in choosing either unless considering overage or international calls. The main appeal of the cloud plans over the regular plans is the bonus system; 30% of your monthly fee will be discounted every month until the 36th month.
Overseas visitors requiring Chinese PAYG sim cards, you will need to show passport only when buying at an official China Telecom location.
Data feature packsEdit
For most users, China Telecom offers range of rates from RMB49 per month including 200MB to RMB889 for 5GB. These require subscriptions. Additionally, they also offer "stacking" plans- you choose how much text, voice, and data you want and a custom plan is created to your parameters. For this type of plan, 60MB is 10RMB, 150 is 20, 300 is 30, 800 is 50, and 2GB is 100. 
However, two separate payment structures exist for data-only devices (like the iPad).
Paying by time spent transmitting data. This system works either by paying only per minute that you spend connected to the network, or paying a monthly fee for a fixed number of hours. This is more difficult to deal with as it requires turning off data transmission when not using it to save time credit (standing by for push notifications is not a very economical use of time). This system is best for those who frequently use high-bandwidth applications. 
Paying by data used. This is the same system as China Unicom uses; this is better for those who wish to be able to leave their devices connected all the time for low-bandwidth applications.
Rates vary due to the competitive nature of the sellers; typically a pay-per-minute card has a 70RMB fee for the R-UIM that can not be applied to airtime and charges 0.1RMB/minute (this is also the overage rate for plans that offer a fixed number of hours per month) and a monthly-fee card can range from 100RMB card fee and subsequent usage at 30RMB/25 hours per month to 500RMB with no additional card fee for three months of 150 hours per month (some cards charge less, but then also impose a data cap; be sure that you're getting an uncapped plan if going with this option).
Meanwhile, data plans that sold by usage typically do not sell data on a rolling monthly basis, but instead sell a set amount of data good for a set amount of time, allowing for more flexible usage. Single-month SIMs are available (and at a typical price of 60RMB/4GB, much cheaper than Unicom), but not easy to find, and most third-party vendors will want to push multi-month packs on your instead (on the small side, 6GB/three months will run 250RMB, on the large side, one can find plans offering 60GB/year for 600RMB). Unfortunately, there is no movement to make single-month cards more widely available. There are also some very good deals available for those who use very small amounts; for example, in Shanghai it is possible to find a plan that offers one year of 200MB/month nationwide usage for a fixed one-time payment of 80-100RMB. Note that like with Unicom, there are local-only packages that give significantly better value to those who stay in one area; in the case of Shanghai one special is 15GB local+3GB out of town for what you'd pay for the 6GB nationwide card.
Asking for 'data only sim-cards' may confuse the Telecom sales people. Instead ask for 'for iPad' or 'for mobile broadband'. You need to provide your passport and a phone number (ideally for your hotel) and the process is more time consuming than expected. The clerk that does the actual data input speaks no english whatsoever and is tucked away in a side room. 
It's better to purchase an R-UIM from a generic mobile shop. They do not require a passport and they invariably have a wider selection of plans to choose from (especially useful in some cities where the local China Telecom offices are told to push packages with mostly local data). 
Is it working?Edit
As soon as you put in the R-UIM card and restart the phone or tablet you should recieve two text messages from number 10000. The first one is a greeter and the other one tells you how much data you have left to use. Depending on where your card originated from (if you didn't buy your card at an official shop there is the chance that it originated elsewhere; this chance is much higher with data-only cards), you may also receiving a text notifying you that you are not in the card's home area; if you purchased a nationwide plan you can disregard this notice. China Telecom has less of a tendency to toss texts at you, but you will get either daily or weekly reminders telling you how much you have left to use. 
AvailabilityEdit
Regular size pre-paid R-UIM cards should be available anywhere.
For data-only plans, skip the official outlet and get better value by finding the nearest computer parts or cellphone market and buying a card there. No registration required- cash paid and that's it. But you may need to haggle the price down to reasonable levels.
SIM sizesEdit
Both regular sized, microUIM, and nanoUIM cards very readily available at the major Telecom outlets. In computer markets, regular SIMs are the norm, and the shop will typically have a cutter for micro/nano-UIMs.
TetheringEdit
Included
International CallingEdit
Minimum 500RMB deposit required, this deposit can be used towards your airtime and will no longer be needed after six months of "good behavior" (balance never falling below zero).
For users of non-R-UIM CDMA phonesEdit
If you have a CDMA phone that does not have an R-UIM slot, it is still possible to get a China Telecom number functioning on your phone.
Renting a SIM-card, phone and/or portable WiFi
Edit
UCOM MobileEdit
Provide portable WiFi rental & prepaid data SIM sale in China mainland. Offering unlimited data plan and pay-as-you-go plan for short-term visitor. You could place order online and pickup/drop- off in hotel. VPN service is available for surfing to access blocked site (Google, Facebook etc.) from China.